Product Description
Includes
Gundam AGE-1 Normal

2 Beam Saber/Daggers
Manipulators

Weapon-holding (1 pair)
Open-palm (left)

DODS Rifle
Shield
Kit Features & Gimmicks
Articulation
The head can swivel/tilt on a double ball-joint neck.
The torso can tilt backwards/sideways in an extent.
Shoulder joints can tilt upwards, and/or frontwards/backwards in some extent.
The arms can...

Swing on a peg-and-socket joint.
Raise horizontally.

The upper arms can rotate.
The arms and legs feature double-jointed elbow/knee parts.
The manipulators can swivel on a ball-and-socket joint.
The waist can rotate.
Front, side, and rear skirt armors can pivot to avoid interference with the backwards leg articulation.
The hip joint axis can swing frontwards/backwards on one side.
The upper thighs can swing frontwards/backwards on a peg, raise horizontally, and/or rotate on each piece.
Ankle joints can tilt/pivot.
Weapons/Other Gimmicks
The left hand is swappable.
Any of the included weapons can be wielded by the default hands.
DODS Rifle can convert between one-handed or two-handed modes via minor parts swapping.

The foregrip can swing out for the left hand to hold.

Beam Saber/Dagger hilts can be optionally removed from the waist armors as handheld weapons.
The shield can...

Mount onto either of the forearms, though the default position in on the left.

The front end of the forearms can be rearranged by removing and reattaching if one wants to swap the shield-holding position.

Rotate on the adapter.

The panel underneath the crotch can be removed to reveal a 3mm mounting point for any Action Bases, where the Gundam AGE-1 Normal can mount onto.
Tips & Tricks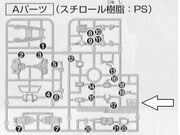 For better results, some or most of the details are needed to be applied and panel-lined with Gundam Markers and/or Mr. Color Paints.
Topcoat (Mr. Hobby recommended) can be used to protect applied stickers and if any, marking decals and painted details.
As an unadvertised feature, a small plate that is shaped like AGE-1's chest can be trimmed off and mounted onto the kit's chest cavity to form Gundam AGE-1 Flat (which is not revealed until the 22nd episode of the Asemu Asuno Arc).
Care must be taken while assembling the ball-jointed waist armors: depending on the thickness of your painted waist sockets, the ball joint can eventually create stress marks (or even worse; potential breakage) on the sockets. It's recommended to wipe off the excess paint on the sockets with a cotton swab doused with either thinner or the Gundam Marker Eraser pen's liquid.  
Product Videos
Custom Field
Product Reviews